HOME >> Courses for Kinesiologists and Muscle Response Testers >> Online Courses
Lyme and Immune Protocols for the Kinesiologist and Muscle Response Tester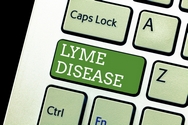 enlarge image
Prerequisite: Muscle response testing skills as a healthcare profession or a foundation level kinesiology or above.
Evidence suggests that Lyme disease and its associated infections (chlamydia, babesiosis, rickettsiosis, mycoplasma etc.) are a cause of a great number of unexplained symptoms that our clients may have. It has been discovered that a tick bite is not the only way one can become infected. The key to helping people with Lyme (Borrelia) is to strengthen the immune system.

This online course explores in detail the cytokines involved with these infections and the herbs that modulate them. Cytokines that have an influence on our immune system and the organisms themselves will alter our cells" cytokine production to ensure that the environment helps them to thrive. Course participants will:
Learn how to use test vials associated with the immune system in conjunction with specific herbs
Receive downloadable charts to make it simple to identify which herbs to use in certain circumstances
Learn how to carry out modalities other than supplements when using test vials.

Receive a completion certificate for CPD purposes once the course is completed. The course is equivalent to 7 hours classroom time.

Access for 18 months from enrollment

To find out more and to learn more and view the
free
preview lessons, visit the course platform
here.
Please note, course fees here are in US dollars.
This is one of the most fantastic online courses I have done! The content and information was excellent. I have many friends and clients who have experienced tick bites and now with this knowledge I feel that I can fully support them. Thank you Terry Larder
Jane Ervin (UK)
N.B. Courses purchased from this website are dealt with by us manually. After purchase, you will receive an email giving you a link to the course platform, usually within 24 hours.