HOME >> Courses for Kinesiologists and Muscle Response Testers >> Online Courses
Analogue Muscle Testing (Cyberkinetics) - Training Online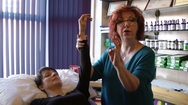 enlarge image

Course ID 92
With Terry Larder


AVAILABLE TO VIEW AT ANY TIME; unlimited access for 12 months


CPD - 7 HOURS




This online course can be watched it at your convenience. Access will be yours for 1 year. It is presented in sections so that you can review any portions of it as often as you want to.The manual is downloadable and can be printed.
View the lessons on the course platform here (here you can also buy the course in dollars)


Prerequisite: Kinesiology at Foundation Level and Above


Developed by the late Alan Sales, this system of muscle testing determines the ultimate treatment.


I have been using analogue muscle testing for the last 14 years and consider it the most exciting development weve had in kinesiology for a number of years. Terry Larder
Testing muscle response gives us a binary feedback (it's either on or off). Not any more…. Learn how you can pick up and address so much more using analogue testing.
Simple to learn yet very effective - dont miss this new dimension to add to your skills and you will achieve even deeper corrections for your clients.
You will learn:
How to muscle test in analogue mode

How to identify the best treatment

How to load all the information the body wants to use without the tedious need to stack

On occasions when you do need to stack, using analogue muscle testing is much easier than in binary where you are coping with multiple changes of indicator.

This online course shows you all the explanations and techniques alongside lots of demonstrations showing you how to use it in clinic.



You will receive a certificate for CPD on completing the course and there is the opportunity for questions in a discussion box during the course.


What people say about this Course

" I absolutely love using Analogue Muscle Testing and the Deep Level Chakra Balance - the best things I ever did!" Maria Bez, Kinesiology Practitioner




"I found the Analogue course very well thought out and communicated with insights and clarity. Also clarified some skills I had not fully understood, or been using from Dr. Deals courses. I would highly recommend this course to every person interested in applied kinesiology or muscle testing. This is what the world needs more of (your courses), Thank you Terry :)" Jim Holloway, Arizona USA

N.B. Courses purchased from this website are dealt with by us manually. After purchase, you will receive an email giving you a link to the course platform, usually within 24 hours.

If you are not sure if this course is right for you, please contact us for advice.